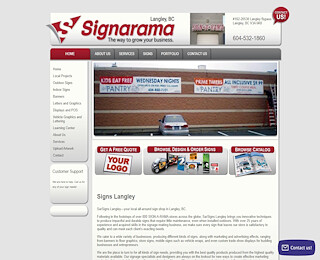 Own a company and need to advertise with signs in Langley? With signs from SIGNARAMA you will have the peace of mind in knowing that what you get will be a high quality, eye popping, attention grabbing sign that can be used for advertising things such as products or services.
SIGNARAMA has a proven track record in the sign making industry. With 25 years of experience SIGNARAMA has 800 sign shops in 50 different countries World wide. Your local SIGNARAMA is the best place to get signs in Langley.
SIGNARAMA sign shops use only high quality materials and state of the are technology in printing to that your signs will be made in vivid colors that easily grab the attention of those passing by. SIGNARAMA takes great pride in the quality of the signs they we create as well as the high degree of customer service skills our employees have. With SIGNARAMA signs in Langley you can also take pride in the quality of sign you will be using to represent your business, products, or services.
Signs have been around for hundreds of years and are still the best way to advertise a business, products, services, homes for sale, special events, and much much more. Although other methods of promotion has been born through the ages the good 'ol fashioned sign is still the best.
So no matter the reason why you may need a sign and no matter the size or type you need stop by SIGNARAMA where we can discuss with you what your needs are and get you set up for a customized sign. Once we at SIGNARAMA know exactly what you want and need it usually can be created within 24 hours so that you can get it placed where you want as soon as possible.
Signs Langley
Related Post
It is easy to get store signs in Langley, just stop by SIGNARAMA where we can custom design and make a store sign for you. Without store signs you would not have customers as you would not be telling them what your store is. With new high quality store signs in Langley you will see that they will draw in more customers.
It is important that when you have new store signs made for your company that you can turn to a company you can put your trust into. SIGNARAMA is that sign company you can trust and we have the track record to prove it. SIGNARAMA has been in the sign making industry for over 25 years and with 800 sign making shops in 50 countries SIGNARAMA has become a leader in sign design.
Signs have been in use for hundreds of years because when it comes down to it nothing can better advertise and promote than a good sign. With SIGNARAMA you can have that peace of mind that your store signs in Langley are being designed by the experts. This expertise coupled with SIGNARAMA's outstanding customer service we try to make all your sign making needs as hassle free as possible and because each sign is custom made you get exactly the sign you want and need.
So if you or your company is in need of store signs in Langley you can stop by at your local SIGNARAMA the one stop sign shop in Langley or call 604-532-1860.
Sign A Rama Langley
604-532-1860
#102-20530 Langley Bypass Langley, BC V3A 6K8
View Larger Map
We welcome your comments!